Crooked, crowded, spaced teeth, overbites, underbites, and crossbites not only limit the optimal functionality of teeth but also place a heavy burden on people's confidence and mental health.
Often people are so embarrassed about their teeth's alignment, spacing, etc., that they slam their palms over their mouths when they laugh or bow their heads to hide their smiles.
In many cases, people are even more petrified of fixing the alignment. They feel that metal braces are even more unsightly, will have difficulty cleaning them, or fear the discomfort these metallic braces will cause.
Clear Aligners, such as Invisalign, offer an alternative solution to obtain that dream smile within less time, with less effort, and best of all, they are affordable braces. But sadly, not many people are aware of this option.
In this article, we will investigate Invisalign clear aligners, what to expect, and where to go in Mississauga to find an Invisalign dental clinic.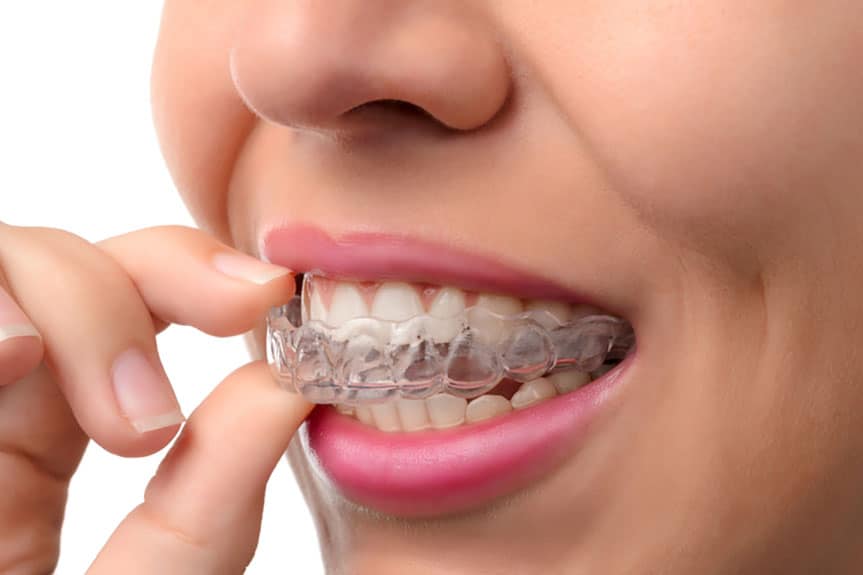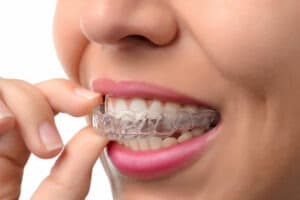 Invisalign is a brand of clear aligners. Similar to FedEx, Xerox, and Kleenex, Invisalign is now a brand directly associated with clear aligners. Instead of talking about clear aligners, they would rather use the word Invisalign.
Clear aligners are transparent thermoplastic trays that are custom designed for each individual to perform a specific duty that would improve the functionality and aesthetics of the individual's teeth.
What is the difference between traditional braces and Invisalign?
Although both treatments have the same function- to straighten teeth. Invisalign has no metal or wires that are fixed for long periods of time. Instead, Invisalign clear aligners can be removed and placed back into position whenever the individual desires to do so, but they should be worn for at least 20 hours a day.
An Invisalign dentist (a term used for an experienced dentist that is qualified to fit clear aligners) would be the best person to consult regarding which technique, braces, or Invisalign, is the right technique for the individual.
For Invisalign in Mississauga, contact Fowler Dental, visit Fowler Dental in Mississauga from Monday through Saturday, from 9 am to 7 pm, or call us at 905-855-2996 to schedule an appointment.
What are the benefits of Invisalign treatments?
1. Invisalign retainers are more comfortable
The smooth surface of the clear aligners feels more welcoming to the lips and tongue than the protruding metal braces. In addition, Invisalign clear retainers are removed when eating or snacking.
2. Invisalign clear aligners are easier to clean
This benefit goes twofold. For one, your teeth are easier to clean, seeing that you are able to remove the clear aligners to brush, floss, or rinse your teeth. On the other hand, the aligners themselves are also easier to clean, thanks to the smooth surfaces and the fact that they can be removed for cleaning purposes.
3. Not as obvious as metal braces
People start growing more confident as soon as they start using clear aligners. Unlike metal braces, clear aligners aren't as visible when a person smiles. In photos, they are hardly detectable at all.
4. Invisalign allows for easy eating.
Eat whatever you like, whenever you like, without having to worry about food sticking to the braces and the incredible effort to clean it afterward. Simply slip them out, enjoy whatever you feel like having, clean your teeth, rinse the aligners and slide them back over your teeth.
5. Invisalign requires a shorter treatment time
In general, the clear alignment treatment requires less time than braces. It all depends on the circumstances of the individual, but on average, Invisalign treatments can take between 9 months and 18 months, whereas traditional braces take anything between 12 months to 36 months.
6. Invisalign requires fewer dentist follow-ups
Your Invisalign dentist will carefully assess your unique case and plan exactly what is required to bring your smile back to life. Various trays will be created, which will then be swapped every two weeks as your teeth slowly align to the perfect place. This is something you do yourself at home.
Braces, on the other hand, require more progress appointments, which consumes more time than Invisalign clear aligners.
There is no denying that Invisalign treatments are the more desirable treatment plan for aligning teeth. Whether it would be the best solution for your own teeth is something that only your dentist can determine.
How much do Invisalign clear aligners cost?
Invisalign and traditional braces could end up costing the same. Still, if you consider the benefits that Invisalign treatments hold for the patient, the choice would be obvious.
Your Invisalign dentist will inspect your teeth and develop a customized treatment plan based on your needs. The condition of your teeth and the goals you wish to achieve will determine how long the treatment will last and how many trays you'll need. These will determine the end cost.
It is possible to adjust your goals in order to fit your budget, but this discussion would only be available after your dentist inspected your teeth and assessed your goals.
Invisalign in Mississauga can cost anything between $2,500 to $6,000. Although the price, at first sight, might be a deterrent, it is important to remember that certain Invisalign dentists offer payment plans that make this option even more desirable.
If you need to know more about Invisalign in Mississauga and the payment plans available to best suit your budget, call Fowler Dental at 905-855-2996, schedule an appointment, or simply do a walk-in during practice hours.
Where to find an Invisalign dentist in Mississauga?
Remember that each case is assessed on an individual basis, and to best understand what treatments are required to align your teeth, it is best that you contact your Invisalign dentist and schedule an appointment.
If you need more information regarding Invisalign in Mississauga or any other regular, emergency or cosmetic dental care, contact Fowler Dental at 905-855-2996 or visit us at 1925 Fowler Drive in Mississauga, Ontario. We are open Monday through Saturday, 9 am to 7 pm.