How to Get the Perfect Smile with Invisalign in Mississauga
What are Invisalign braces, and how do they work?
Invisalign braces offer an alternative to the traditional metal braces used to straighten teeth. This cosmetic dental treatment uses a series of custom-made plastic braces to straighten your teeth discreetly and in up to half the time required by metal braces! In addition, Invisalign braces are clear and can be removed for eating and drinking, aligning your teeth gradually while allowing your smile to show through along the way. 
At Fowler Dental, we are equipped with high-tech intraoral scanners. The iTero 5D Intraoral scanner is a revolutionary approach to mapping out your mouth and jaw. By using a compact, state-of-the-art wand, we are able to determine the exact position of our teeth and gums and determine the best methods for Invisalign treatment, as well as show you the expected outcome! This process is quick and painless and allows us to plan your Invisalign treatment without the traditional messy and uncomfortable impressions. When we create an exact, 3-D model of your mouth, we are able to measure what changes will straighten out your smile and determine the best use of the Invisalign braces. 
After using our high-tech scanner to create a model of your teeth and show you the expected outcome, a set of aligners is custom-made to gently adjust our teeth over time. These aligners may fit tightly at first, but will gradually move your teeth into place. You will change your aligners about every two weeks, gently guiding your teeth into alignment. And here at Fowler Dental, we will be with you every step of the way! 
What is the effectiveness of Invisalign, and what affects the success of the Invisalign treatment?
Invisalign treatment is more comfortable and less painful than traditional braces. As a part of your treatment plan, your dentist will give you a glimpse of your treatment outcome. Every smile is unique, and Invisalign moves your teeth in a way that is gentle and gradual, keeping you comfortable and smiling! 
You can ensure your success with Invisalign by wearing your aligners as directed. You will wear each set of aligners for 20 to 22 hours per day, and your aligners will be changed about every 2 weeks as directed by your dentist. Wearing your aligners consistently will help you to see results quickly! Many start seeing results in just a few weeks. 
Invisalign has successfully improved more than 12 million smiles- yours could be one of them! 
What types of dental issues can Invisalign correct?
Invisalign treatment can help adults and teens who want to enhance their smiles by improving the alignment of their teeth! Invisalign can treat most bite issues, including: 
Underbite

 

Overbite

 

Crossbite

 

Open bite

 

Gaps

 

Crowding

 

General straightening

 
Your personalized Invisalign treatment plan with us in Mississauga will consider how Invisalign can gradually straighten and align your teeth to perfect your smile. By slowly applying the right amount of force in just the right direction, Invisalign aligners can fix bite issues, straighten your teeth, and even make needed changes to your jaw.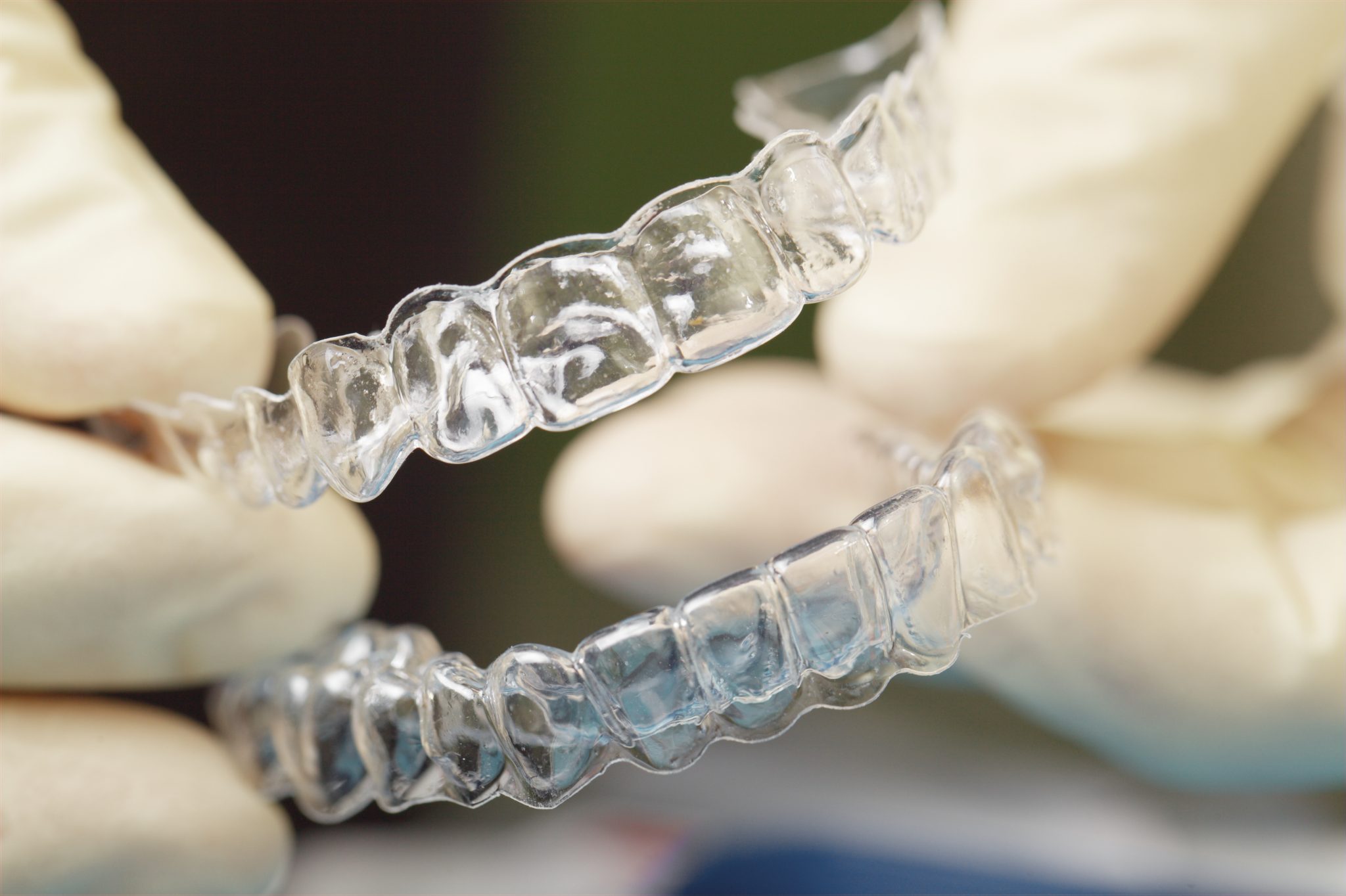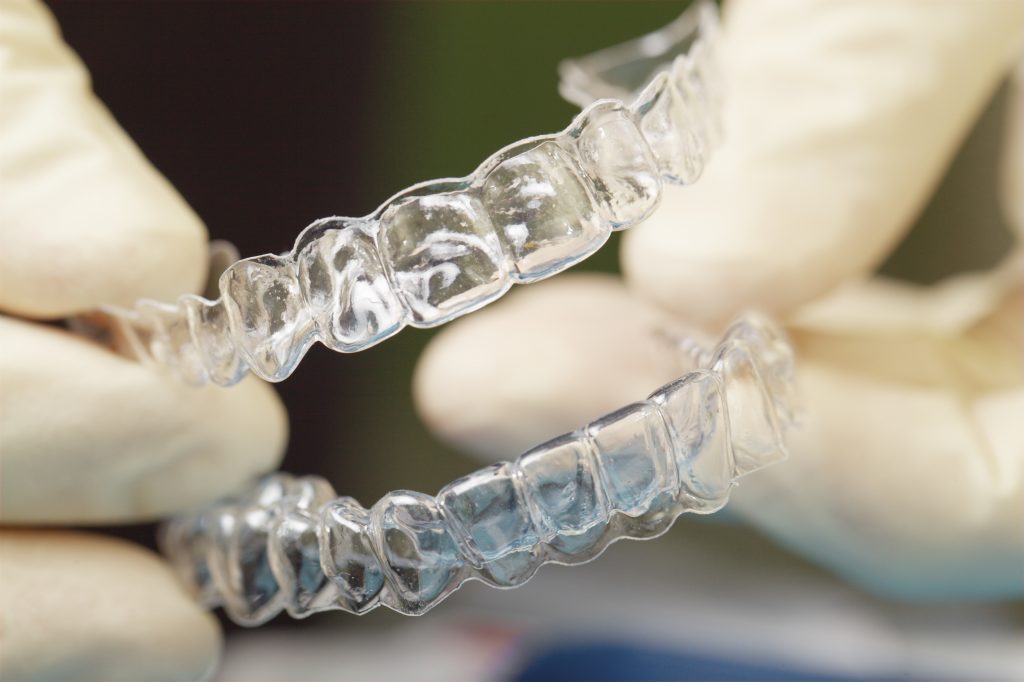 Who is a good candidate for Invisalign braces?
Invisalign braces are an excellent solution for adults and teens looking to improve their smiles! These clear aligners are gentle and nearly invisible- people may not even be able to tell you are wearing any! The aligners can improve your bite, the alignment of your teeth, and even your jaw to transform your smile.  
People currently wearing metal braces may be able to switch over to Invisalign to finish off their treatment without the discomfort of the metal brackets. Those who have had braces in the past can also benefit from Invisalign treatment if their teeth have shifted! Call us at Fowler Dental here to see if Invisalign is right for you! Get your Invisalign in Mississauga today!
What are the benefits of getting Invisalign braces compared to traditional metal braces?
Invisalign clear aligners are more comfortable and less painful than traditional metal braces. In addition, you can remove the aligners when eating or playing sports, giving you the control to transform your smile without putting your life on hold! This also means that you don't have food restrictions, since you aren't wearing the braces while eating. Invisalign may also provide faster results, with some cases treated in as little as 6 months!  
Invisalign is also more subtle than traditional metal braces, providing powerful treatment while still allowing your smile to shine through! The nearly-invisible plastic aligners are also more discreet than metal brackets, and more comfortable too! 
What are some of the pros and cons of Invisalign?
PROS 
Comfortable: Invisalign offers the treatment benefits of braces without the discomfort caused by brackets and wires. They can be molded to your gum line and are a less bulky option.

 

Predictable: when worn correctly, Invisalign results are consistent and predictable, giving you the smile of your dreams right when you expect it!

 

Discreet: possibly the most significant pro of Invisalign treatment, these aligners are virtually invisible, and people may not even notice you are wearing them!

 

Customized: Invisalign aligners are custom-made to fit your teeth and are adjusted along the way as your smile transforms. 

 

Effective: Invisalign has given 12 million people something to smile about, including more than 3 million teens!

 
CONS 
Individualized: since these aligners are designed to move each tooth individually, they may be less effective on teeth with bridgework or very complex dental cases.

 

Independent: These aligners function because you wear them! This allows you to take them off whenever you need to but requires that you stick to your treatment plan to reach your goals. If you aren't wearing your aligners for the recommended 20-22 hours per day, you will not see the results you are looking for.

 

Removable: removing the aligners to eat and drink gives you greater flexibility! But it also can be cumbersome, and it's essential to make sure that you don't lose your clear aligners when you remove them for a meal!

 
How long does the Invisalign treatment take to complete?
Every smile is unique, and Invisalign treatment is customized for you. Some people, especially those with less complex cases, can complete their treatment within 6 months, while others can take a bit longer. Whatever the case, most see results within a few weeks of consistent wear! 
What are costs associated with Invisalign, and are financing options available to get Invisalign treatment?
Invisalign aligners typically cost about the same as braces. However, smaller monthly payments can be arranged to provide flexible payment options to align treatment with your budget.
Will my insurance cover the costs of Invisalign treatment?
Many dental insurance plans cover Invisalign just like they cover braces. Your insurance plan may cover a certain percentage of treatment or offer a specific dollar amount of coverage. An HCSA (Healthcare Savings Account) may allow you to pay towards Invisalign treatment without being taxed, or you may be able to pay the dentist and be reimbursed from your HCSA afterward.
What factors go into the average cost of Invisalign, and how can you bring down your outlay?
Invisalign offers the latest state-of-the-art technology to provide a precise and customized treatment plan. The premium materials used are designed specifically for use in Invisalign aligners and are custom-made in a lab to ensure an exact fit. The imaging and software used in the process are complex, and all of these factor into the Invisalign cost! 
The complexity of a case may also factor into the cost of Invisalign treatment, as more adjustments may be needed and more aligners may be required. Compliance with treatment can also make a big difference. If the aligners are not worn as recommended, the treatment will take longer and more aligners will be needed. Losing aligners may also lead to greater costs in replacements. 
The best way to minimize spending on Invisalign treatment is to follow through! Sticking with the treatment plan and wearing the aligners as recommended will ensure you have the smile you've been waiting for as soon as possible and with minimal expense. 
Think Invisalign might work for you? Contact us at Fowler Dental today! Our team in Mississauga is experienced with Invisalign and can provide you with a one-on-one consultation to make a personalized treatment plan. Let us give you something to smile about! Get your Invisalign in Mississauga today!