How Much Does a Tooth Cap Cost in Mississauga?
Dental caps or dental crowns are considered perfect solutions in most cases to cover damaged teeth or restore dental implants. It involves a straightforward and simple procedure, but the process and types of crowns can differ depending on the patient. Similarly, tooth cap costs can also vary from one patient to another. If you have a missing or damaged tooth, or weakened or severely worn-down tooth, Fowler Dental can provide permanent or temporary crown treatment to fix the issue.
When to Get Dental Crowns?
Do you have a large dental cavity? We may recommend you get a filling. A temporary or permanent crown may be required if the tooth is cracked, severely worn down, or weakened. Porcelain crowns may also be required after a root canal. Post root canal, a tooth requires protection. If you are missing a tooth, we can place a tooth implant or a dental bridge.
How Much Do Tooth Caps Cost?
There are different types of crowns, and the tooth cap cost can vary depending on the type among other factors. The most common treatment costs per tooth are as follows:
Porcelain fused to metal crowns cost from $875 to $1,400
Metal & gold crowns cost from $800 to $1,400
Ceramic crowns (porcelain crowns) cost from $800 to $3,000
Resin crowns cost from $600 to $1,300
Stainless steel crowns cost from $300 to $500
Most dental insurance plans provide partial coverage for dental crown costs.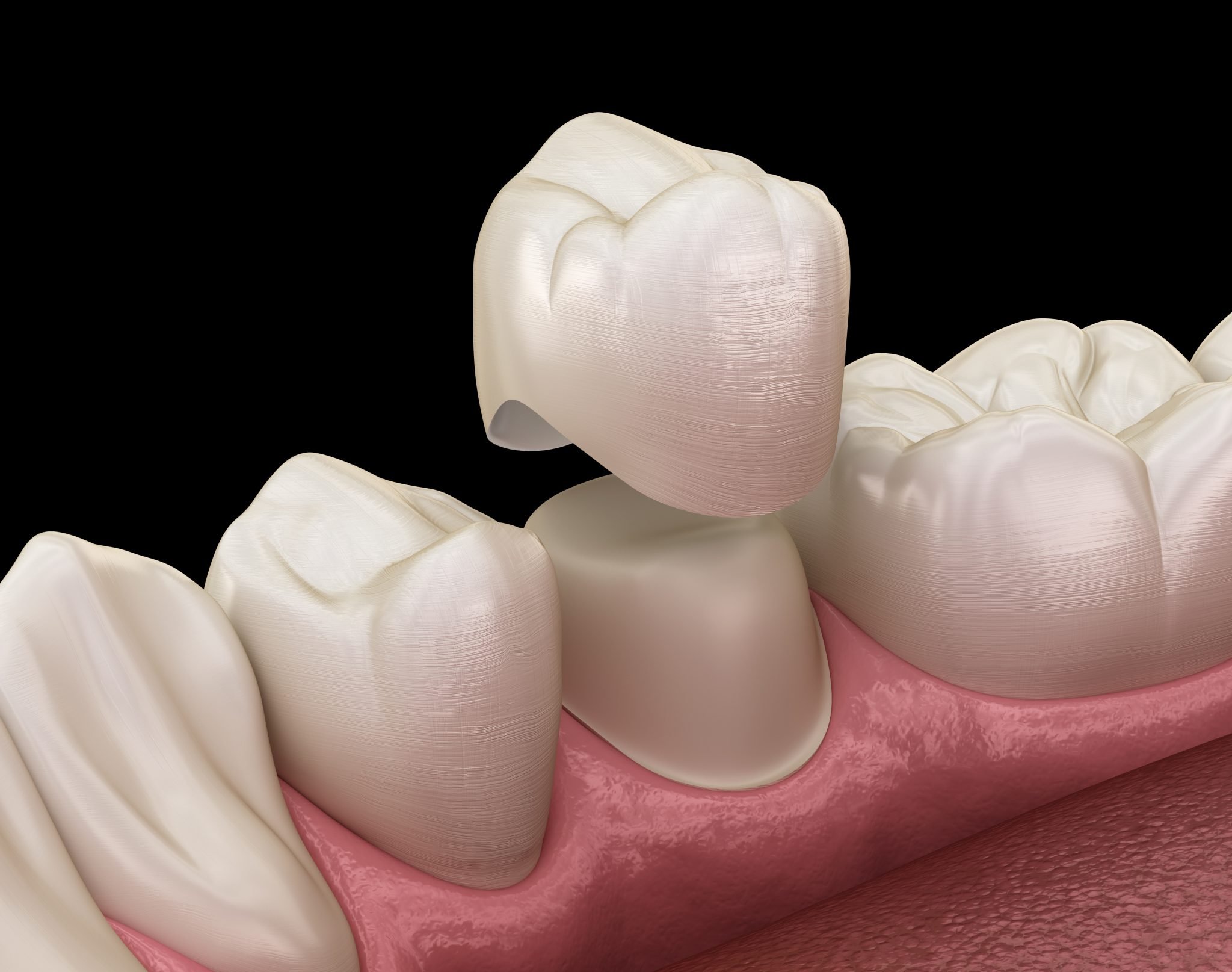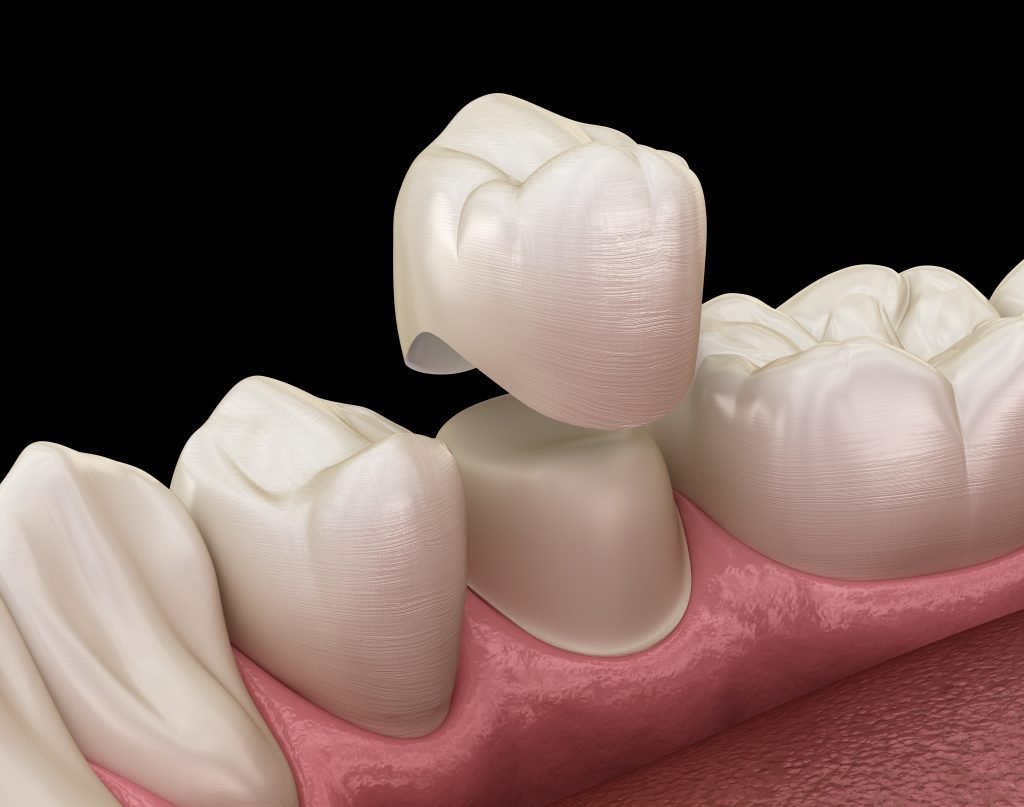 Factors Affecting Tooth Cap Cost
The common factors that affect the cost of dental crowns are as follows:
Your Location:
If you are in Mississauga, you should expect your dentist to provide dental implants and crowns according to the Ontario Dental Association's Suggested Fee Guide. Most reputed dentists follow this suggested fee to maintain a fair treatment cost for basic services. However, dental crowns are not classified under basic service, but as major restorative procedures. So, the prices vary depending on many other factors including location.
Dentist's Qualification:
When tooth crowns are placed by a prosthodontist, the procedure tends to cost more. When you need crowns for multiple teeth and there is more complexity involved, it is important to seek treatment from such a dental specialist. You may have many missing teeth and a full mouth reconstruction may be required. Prosthodontists follow a special fee guide that represents the complexity of the work and the additional training they have undergone.
Crown Material

As already mentioned, there are many different types of dental crown materials, and your tooth cap cost can depend on your choice. The different choices in the order of least expensive to most expensive are as follows:
All-Ceramic Crowns: When it comes to affordable dental caps, all-ceramic crowns make an excellent choice. They can be designed digitally and milled using CAD CAM machines. Ceramic blocks or disks cost low. Depending on the requirements, veneering porcelain may also be added to provide more natural looks.
Zirconia Crowns: These are the latest types of ceramic crowns and are known for their exceptional strength. They can withstand extremely high biting forces as well.
Porcelain fused to metal (PFM) crowns are made by adding a layer of white porcelain over a metal coping surface. It is less expensive than a full metal crown. However, it is a time- and labor-intensive process to make these crowns and can be almost as expensive as their full metal counterparts.
Metal Crowns: These are the most expensive types of crowns. Eventually, the tooth cap cost will depend on the type of metal used by the lab – gold, platinum, or palladium. Metal crowns are known for their high durability and exceptionally high resilience to fracture. It is best to use gold crowns or other metal crowns in areas where high biting forces are involved, such as the molars.
Missing or Damaged Front Teeth
If you have a missing front tooth, it can affect both your smile and speech. Many of our patients experience 'lisping' because their tongue sticks into the gap. Any missing tooth can cause the shifting or loosening of adjacent teeth. This can cause:
Damages to the surrounding teeth
Changes in bite
Various oral health issues

A damaged front tooth can develop gum infections or become highly sensitive to heat or cold. Gum infections can affect other health systems as well.
Our dentists will fix a damaged front tooth by fitting it with a dental crown. The procedure will mostly take no more than a couple of appointments. The tooth will need preparation before the crown is fitted. We will take impressions of your mouth and fix a temporary crown while the permanent crown is being prepared. Some patients may require root canal treatment before a crown is fixed. We will inform you during your first visit whether your dental condition is suited for same-day CAD CAM dentistry.
Dental Crowns & Dental Insurance
If you have dental insurance, it can help cover a part of your tooth cap cost if not the entire cost. The amount of coverage will depend on your insurance plan. We recommend you contact your insurer to determine the amount you are eligible for.
Your Trusted Dental Office in Mississauga
Fowler Dental is your trusted dental office in Mississauga, led by the highly qualified and experienced Dr. Akash Datt. We understand that a great smile is a sign of good health. We provide dental crown procedures to fix different types of dental issues and you can expect affordable and reasonable tooth cap costs from us. We make all the efforts to understand your dental needs and will develop a custom treatment plan to address them.  You will find a comfortable, friendly, and completely safe, and relaxing environment in our office. You can expect a pleasant and pain-free experience with us.
If you or a loved one has damaged teeth or any dental problems, call us today at +1 905-855-2996 or write to us by using this Contact Form.