There has always been a stigma surrounding cosmetic dentistry, and that is that the majority of the population considers it to be incredibly expensive. The word 'veneers', for instance, is one of those dentistry terms that people immediately associate with celebrities and millionaires. But this is not the case with composite veneers.  
Composite veneers have been becoming increasingly popular as an option for cosmetic dentistry in recent years. They are a minimally invasive and cost-effective way to improve the appearance of discolored, chipped, or crooked teeth.  
In this article, we'll discuss everything you need to know about composite veneers, including the benefits, types of veneers, proper care, and how long they last.
What are composite veneers?
Composite veneers, also known as composite resin veneers, are thin shells of composite resin that are applied to the surface of the teeth to improve their appearance. They can be used to cover up a variety of cosmetic issues, including discoloration, chips, and gaps. Unlike porcelain veneers, composite veneers can be completed in a single visit and do not require as much tooth reduction.
Composite Veneers vs. Porcelain Veneers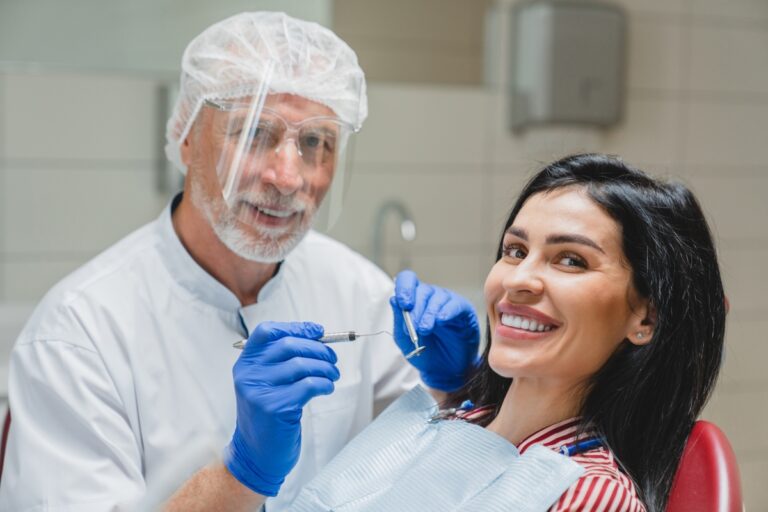 When it comes to cosmetic dentistry, composite veneers, and porcelain veneers are the two main veneer options. While both options can provide a natural-looking improvement to the appearance of the teeth, there are some differences between the two.
Porcelain Veneers: These are made of a thin shell of porcelain that is custom-made to fit over the natural tooth. They are typically more durable and long-lasting than composite veneers, and they are less prone to staining.
However, the process of getting porcelain veneers typically requires more preparation of the natural tooth, as the porcelain shells must be bonded to the tooth. Also, porcelain veneers are, on average, about twice as expensive as composite veneers.
Composite Veneers: These are made of a composite resin material that is applied directly to the tooth in a single visit. This makes them a less invasive option than porcelain veneers, and they can often be completed in a single visit.
While composite veneers may not be as durable as porcelain veneers, they are still a long-lasting option with proper care. This leads us to our next section…
How long do composite veneers last?
The longevity of composite veneers can vary depending on several factors, including the quality of the materials used, the skill of the dentist, and the patient's oral hygiene habits. On average, composite veneers can last anywhere from 5 to 7 years with proper care.
Composite veneers are not as durable as porcelain veneers, which can last up to 15 years or more with proper care. However, composite veneers can be repaired if they become damaged or chipped, whereas porcelain veneers cannot be repaired and must be replaced if they are damaged.
Proper care is essential to ensure that your composite veneers last as long as possible, which we'll discuss in the next section.
How to take proper care of composite veneers
It is important to practice good dental care, including brushing and flossing regularly and visiting the dentist for regular checkups and cleanings. Gum disease can affect the longevity of your veneers, so it is important to maintain good oral health.
In addition, it is important to avoid habits that can damage the veneers, such as biting your nails or chewing on hard objects like pens or ice. It is also important to avoid foods and drinks that can cause staining, such as coffee, tea, and red wine, as composite veneers are more prone to staining than porcelain veneers.
If you experience any problems with your composite veneers, such as chipping or discoloration, it is important to see your dentist as soon as possible. They may be able to repair the veneers or recommend other options for improving the appearance of your teeth.
What are the benefits of composite veneers?
For those who scrolled past the sections above and who are solely interested to learn more about the benefits of composite veneers, let's do a quick recap.
Composite veneers are a more affordable
Require less tooth reduction than porcelain veneers.
Less invasive (don't require the removal of as much tooth structure as porcelain veneers)
More customizable than other types of veneers
It can be shaped and colored to match the natural teeth
Can be repaired when damaged or chipped (porcelain veneers must be replaced when damaged)
*Note: If you are considering composite veneers, it is essential to note that they cannot be whitened with traditional teeth whitening treatments. If you are looking to whiten your teeth, it is best to do so before getting composite veneers so that the veneers can be matched to your newly whitened teeth.
Where to get composite veneers in Mississauga?
Fowler Dental provides a blend of modern technology and human touch in a painless way that is customized to the need of each patient. Our cosmetic dentistry, including composite veneers and other services, provides a comforting and stress-free experience.
If you need to know more about dental services in Mississauga, call Fowler Dental at 905-855-2996, or you can also visit our clinic Monday through Saturday, from 9 am to 7 pm. You may schedule an appointment, but we also accept walk-ins at 1925 Fowler Drive, Mississauga.