Own a Beautiful Smile | Cosmetic Dentistry in Mississauga
A shimmering smile can change your life.  
Feeling proud about your teeth's appearance can boost your confidence. But as you may have discovered, there are so many procedures and confusing terminology, and perhaps your perception of costs for cosmetic dentistry overwhelms your decision to take that next step. 
This article will shed some light on taking that first step to owning the smile you desire. But remember, whatever you decide to do, remember to consult a reputable dentist first. To connect with cosmetic dentistry in Mississauga, click here!
What is cosmetic dentistry?
Cosmetic dentistry refers to the type of oral care that is aimed at improving the overall appearance of teeth. Mostly, this type of care is regarded as non-essential, but some treatments include restorative benefits that are essential. 
For instance, a teeth-whitening procedure is purely focused on aesthetics and does not have implications for function. Replacing a missing tooth, however, restores functioning and also improves aesthetics.   
Although specific cosmetic dentistry procedures may be focused on appearance, they also play a role in people's mental well-being. So often, we see people covering their mouths when they laugh or choosing to remain quiet in a conversation with strangers because they are self-aware and embarrassed about the appearance of their teeth.  
Cosmetic dentistry can help improve confidence by improving the appearance of teeth. Fowler Dental, a Mississauga cosmetic dentistry provides people with an array of options, but it is essential to ensure that you do your research first to find a reputable dentist with affordable dental rates.
Why do people visit a cosmetic dentist?
Patients require standard dental procedures for regular check-ups, inspections, cleaning, and emergencies. When it comes to enhancing the aesthetics to improve their appearance and confidence, patients would consider cosmetic dentistry.   
These cosmetic dentistry procedures could assist patients with anything from discolored teeth and straightening uneven teeth to replacing missing teeth and improving their bites. 
In the next section, we will examine the most common procedures for cosmetic dentistry in Mississauga.  
What services does cosmetic dentistry include?
Although we provide a list of services in this article and a brief summary of each, you'll still need to consult your dentist to be informed of the specific procedure that would best suit you. Here is a list of the most common types of cosmetic dentistry in Mississauga and worldwide.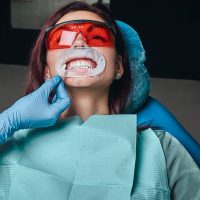 Teeth discoloring can be ascribed to intrinsic discoloration, extrinsic discoloration, and aging. The type of discoloration will dictate the treatment necessary. Many people erroneously invest in over-the-counter whitening kits before consulting their dentist. These whitening kits could be ineffective, depending on the type of discoloration. 
There are many options available for teeth whitening in Mississauga, and we lifted the veil on these whitening treatments in a previous in-depth article that we highly recommend you read through.
Also known as 'Hollywood teeth,' veneers are thin shells, tailored and colored to match your teeth, that cover the front of your teeth. The process includes removing a hair-thin layer of enamel from the surface of the tooth and cementing a veneer to the tooth. 
The shape, color, and size of the veneer can be shaped accordingly, making veneers the perfect solution to fix cracked enamel, crooked teeth, and gaps.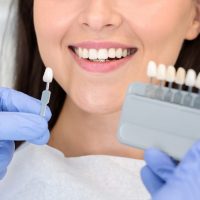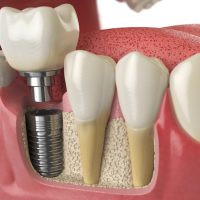 Where veneers enhance the appearance of existing teeth, implants are restorative procedures to replace excessively damaged or missing teeth. Tooth loss could occur due to tooth decay, gum disease, or injury.  
Speaking of injuries, we highly recommend perusing our article for more information regarding emergency dental care in Mississauga.  
Dental implants replace teeth from the roots up and can provide a permanent fix or removable replacement solution. The implants are tailored to be minimally invasive and to match your other teeth.  
Cosmetic gum surgery goes by many other names, such as genioplasty, gum contouring, and gingival sculpting. Poor oral hygiene, genetic factors, or gum disease can weaken the gums and alter their appearance. 
Due to genetic traits, gums may appear to be swallowing the teeth, giving an appearance of smaller teeth and excessive gums. Conversely, gum recession may create an impression that the teeth are abnormally long.  
Cosmetic gum surgery can also repair dark patches on the gums caused by previous cosmetic treatments such as implants, crowns, and dental bridges.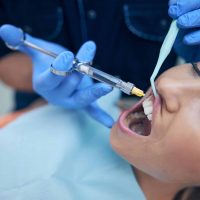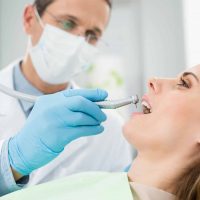 Tooth contouring and reshaping
Some teeth may be standing out, like a sore tooth (excuse the pun) from its neighbors, and this procedure can help them become more subtle and blend in better. A drill is used to take off a tiny amount of the tooth enamel, and the tooth is polished to create a smooth finish. 
This procedure is mostly used on the most visible teeth in your mouth, such as the front incisors and canines.  
Anybody can get a tooth chipped. You don't necessarily have to fall down a flight of stairs or bite down on a rock to do so. It can happen to anybody at any time, even during your sleep!  
It is important to repair chipped teeth as soon as possible to prevent the further spread of damage. Check out our advice on emergency dental procedures in Mississauga for chipped teeth here.  
Tooth bonding is the cosmetic dental procedure for repairing chipped or cracked teeth. But it can also be applied to other aesthetic functions such as filling gaps between teeth. 
A composite resin (bond) is sculpted and colored accordingly to repair the tooth and blend in seamlessly with the other teeth.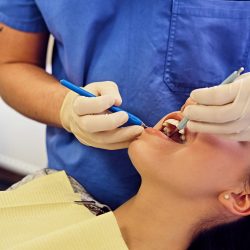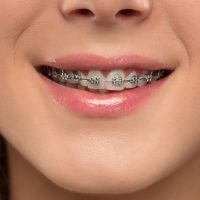 Dental braces (sometimes referred to as just braces or orthodontic cases) are long-term solutions to straighten teeth. It serves to improve aesthetics, improve biting and chewing, and can also help to improve dental health.  
Metal braces are the most common type of braces and the most traditional. They were the only option available for many decades, but nowadays, there are other types to consider. Ceramic braces and self-ligating braces are also front-of-the-teeth solutions. In contrast, lingual braces are fitted to the back of the teeth, making them completely invisible.  
Since the turn of the century, clear aligners have also become an option.
Clear aligners (Invisalign)
Invisalign is what Kleenex is to tissue. Because it was the brand that made clear aligners popular, many now refer to clear aligners as Invisalign. It consists of a flexible transparent thermoplastic tray that slides over your teeth to adjust their alignment.  
Unlike the other braces mentioned before, they are removable, but you'll need to wear them for about 20 hours a day and for many months, depending on your unique case. Read more about Invisalign in this article.
Clear aligners are well suited to patients that had braces in the past and require a minor adjustment later in life. It is also suited for mild problems like a larger overbite and slightly misaligned teeth. For more severe cases, you'll need to consider some of the other options, but your dentist will be the best person to advise you on what would work best.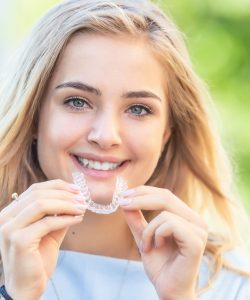 What are the most common issues that call for cosmetic dentistry in Mississauga?
Now that you are more informed of the types of services, for interest's sake, we thought we'd share the most common issues that call for cosmetic dentistry in Mississauga. 
Chipped or broken teeth are one of the most frequent occurrences. Chipping a tooth can happen in a split second, from biting down on a seed to gnawing your teeth in your sleep and sometimes requiring emergency dental care fast.  
The discoloration of teeth is also a significant concern for patients. Often, patients refer to dentists after discovering that the over-the-counter whitening kits did not deliver the promised results. It is always better to consult your dentist first before trying to solve the problem yourself.  
Uneven teeth or problematic alignment is best solved at an early stage in life. The most common occurrence of alignment procedures can be found in children and adolescents. The most common braces worldwide remain to be metal braces. 
Gaps between teeth or missing teeth are also a problem that many patients seek attention for. Sometimes it is a quick fix such as a bonding solution, but in many cases, the situation requires more invasive remedies such as implants.  
Is cosmetic dentistry expensive?
This is a common question, but the question cannot be answered without going deeper into the details. Every case is unique, and the price depends on the selected dental procedures.  
Maybe you recall the hit reality television series, Extreme makeovers. Here you saw a complete transformation of the smiles of the fortunate souls on the show. These smiles are made of veneers, implants, and whatnot and can end up costing thousands of dollars. 
On the other hand, tooth contouring and reshaping can cost anything from $50 and up. Giving an individual a ballpark figure for cosmetic surgery is impossible without a proper consultation and budget discussion.  
Certain procedures are covered by insurance place, especially if these procedures are restorative, but it depends on the plan and the procedure. (Check this guide on Dental Insurance in Canada) As we stated before, cosmetic dental procedures aren't always vanity actions. It can affect oral hygiene, improve oral health, and improve the psychological well-being of patients.  
Paying cash for these procedures is what deters many people from shaping the smile of their dreams. Certain dental practices, like Fowler Dental in Mississauga, provide affordable dental payment plans. Make sure that your dentist offers the same.  
If you need more information regarding cosmetic dentistry in Mississauga and affordable dental payment plans, consult Fowler Dental.  
We appreciate the uniqueness of every patient so let us help you by providing customized treatment in a stress-free environment. Call today at 905-855-2996 or visit us at 1925 Fowler Drive in Mississauga, Ontario. We are open Monday through Saturday, 9 am to 7 pm. 
Before you go, make sure to out the frequently asked questions section below. 
Most common questions asked by our patients (FAQ)
Is cosmetic dentistry safe?
In certain cases, certain procedures won't be possible due to the current state of a tooth or teeth. For instance, putting a veneer on a cracked tooth is not safe. But this is something that a reputable dentist would immediately point out to you.  
Overall, cosmetic dentistry is safe and effective if done by an experienced dentist with a sterling reputation.
Can cosmetic dentistry fix an overbite?
Yes, and the type of procedure depends on the extent of the problem. For minor overbites, clear aligners could solve the problem, but in most cases, braces could be the more effective solution. Your dentist needs to inspect your teeth and jaw and fill you in on the most appropriate solutions to your unique situation.  
How long does a cosmetic dental treatment last?
This common question can only be answered once elaborated. Tooth contouring and reshaping could be once of a visit to the dental practice where braces need hours and reoccurring visits every 4 to 6 weeks thereafter.  
Whether it is teeth whitening, where you could easily obtain over-the-counter remedies, or something as invasive as implants, consult your dentist first.  Consult Fowler Dental for cosmetic dentistry in Mississauga.
Is aesthetic dentistry the same as cosmetic dentistry?
More than often, these terms are used interchangeably, but there is a subtle difference. Usually, cosmetic dentistry refers to improving the appearance of your teeth. Procedures under this term include whitening procedures, contouring, and veneers. 
Aesthetic dentistry refers to repairing functioning. Replacing a missing tooth will assist in chewing and also improve the general appearance of your smile. 
Does cosmetic dentistry include surgical procedures?
Certain drastic cosmetic dentistry does include surgical procedures such as cosmetic gum surgery. In general, these procedures are purely for aesthetic purposes and should be performed by a dentist with experience in the field. 
Most procedures are less invasive and do not require surgery. Whitening or contouring do not even require anesthetics.